Freeride Skiing: Advanced Techniques
"As you evolve you push the limits higher and higher, always trying something new..."
Advanced-does this even exist in freeride? Yes, no, maybe? If I check my timeline, how I progressed in freeride, everything went step by step, when I was evolving as a skier. Gaining experiences, going from easier to more exposed terrain, etc. Getting to know myself, where I'm comfortable what terrain suits me best and what do I like the most.
So the things that I'm doing now are not "advanced" in any way. It's just a natural step in the evolution of skiing. As you evolve you push the limits higher and higher, always trying something new, skiing on soft/hard/wet snow. Bluebird/cloudy/whiteout. (or skiing in A4 format as I call it). 
If I stop philosophizing and get to the point.
Note: I will not go into details, because the article would be too extensive. Techniques are not a standalone chapter. It is mixed in between the other two chapters.
Starting with glaciers, the principal hazard of travel across a glacier is that of hidden crevasses. On a dry glacier (that is, a glacier not covered with snow) crevasses are obvious and therefore pose few problems. However, on a wet (snow-covered) glacier what lurks beneath the surface presents a very real danger. Travel on a wet glacier, therefore, is always undertaken roped together – even if there is a good track and good visibility. 
Roping up wrongly and/or using the rope incorrectly can make any crevasse incident worse. It is therefore essential to adopt the correct practice and to keep to certain guidelines. How to travel across a glacier safely and crevasse rescue techniques must be learned and practiced, either on a specialized course or from an experienced mountaineer or a professional.
Each participant should be equipped with the minimum of an ice ax, a harness and screw gate karabiners, an ice screw, a 120cm sling, three prussic loops, a pulley, and three spare karabiners. The party should have a dynamic rope, the minimum diameter of which should be 8mm, although in practice a larger diameter is more user-friendly when it comes to handling in a crevasse rescue situation. It is not necessary to have a designated single rope of 10 or 11mm if only pure glacier travel is envisaged. The minimum length should be about 30m for two people. For larger numbers, a longer rope or two ropes should be used.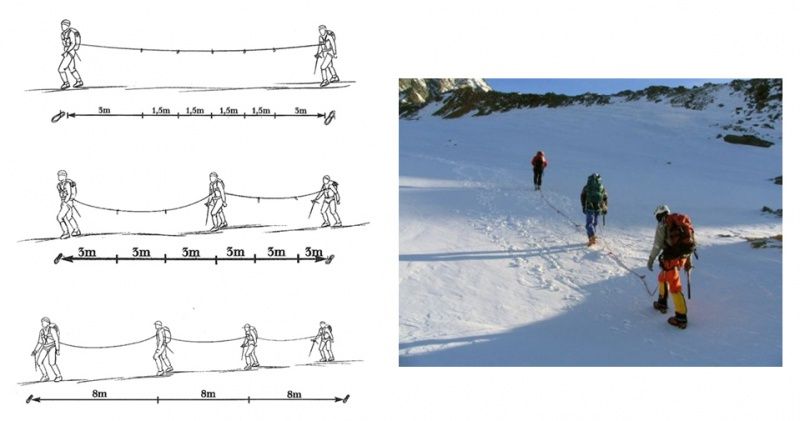 The correct way of tying in for glacier crossing:
A: Rope tied in with micro traxxion or any other pulley device.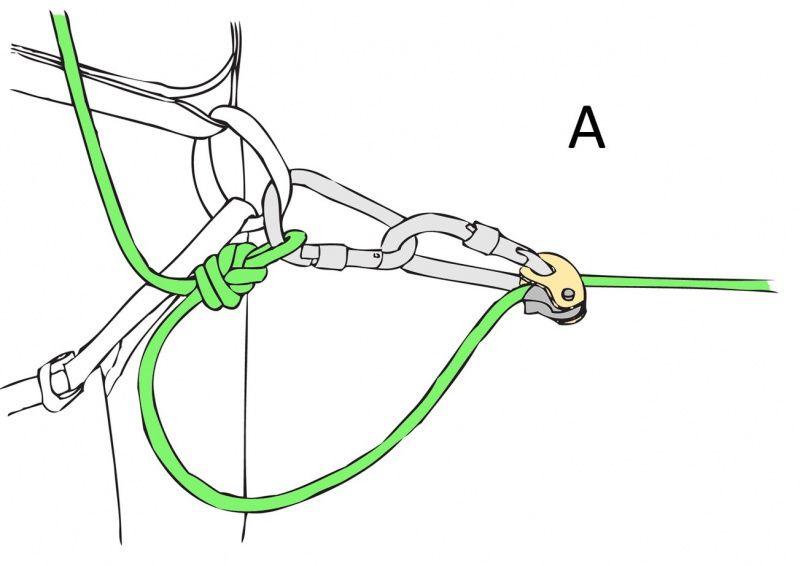 B: Rope tied in with prussic rope, machard knot.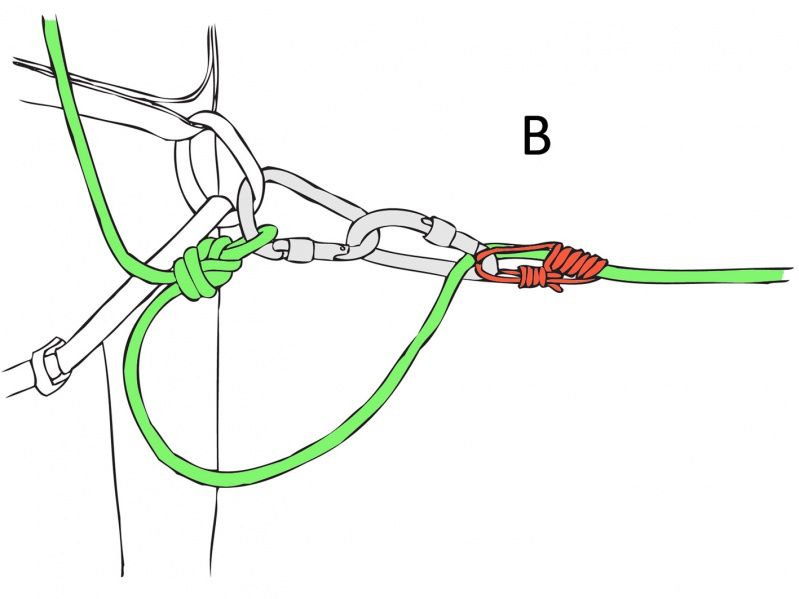 Important details:
Don't leave too much rope slack, keep the rope reasonably tight while walking. Here, the middle 5-6 m should glide in the snow. If you leave the rope too slack, you run the risk of stepping on it with sharp crampons, which will damage or sever the rope. And the fall would also be worse since the person falling would gain some momentum before the fall is slowed by the rope.

One hand is always free to handle the ice ax.
Protect yourself from the cold (even when it's warm).
If compared with big open slopes are much trickier. They tend to be much steeper, usually 40° or more, and narrow. That means you have to turn on demand. And if we add variable snowpack (you should always try to ski it in perfect snow, this way is much safer) something can quickly go wrong. If possible ascend in the couloir so you can check and evaluate the conditions in it. Try to avoid skiing on sight. When that is not possible, check the conditions. Try to trigger a sluff, check for the cornices.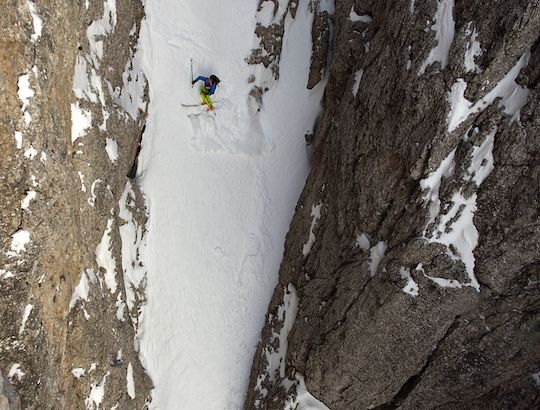 First note, try to ascent on the terrain you'll do the descent later. That way you can check the conditions.
The steepness of a slope (or couloir) is quoted in degrees and defined as the change in elevation divided by measured distance horizontally. A slope between 30° and 40° can be defined as 'steep'. Slopes above 40° are termed 'very steep'. The term 'extreme' is both overused and misused. An 'extreme' slope is best defined as one which is over 40° for a considerable distance and has serious consequences if the skier falls.
If you are interested in steep skiing there are some important prerequisites. Firstly, you should already be an experienced off-piste skier familiar with all snow types; you should be able to read the conditions and make accurate judgments regarding the snow texture and be able to continuously adjust your balance accordingly. 
Remember, when skiing off-piste we always ski in control and can stop when and where we like. If you are out of control or desperately trying to slow down on your turn exits, then the terrain is too difficult for you. Steep skiing is a serious exercise, so great care is needed.
A great deal is in the head. The first turn can be a mental challenge, especially if there is significant exposure. The key is to relax, concentrate on your stance… and just do it! If the first few turns go well, then it usually gets continually easier as the mind settles down and the enjoyment kicks in.
Let's go down to the detail:
Your stance should be stable with your weight slightly forward. You must keep your stance discipline on the steeps; if you have a tendency to lean back then your turn radius will increase dramatically together with your speed. Turns on the steeps are of a short radius: the time it takes to make each turn is the key. We don't want the skis pointing down the hill for long, because that's where the real acceleration occurs. All skiers will need to play a 'get out of jail card' at some point. This usually means side slipping. If the slope is too steep for you to make a confident turn, then a side slip gets you down safely. The method is relatively simple, it simply takes practice and good balance to side slip properly.
Once you get comfortable on steep lines, you can start with longer turns. Don't start too fast. The forces are much higher at high speeds, and sometimes you have to make quick decisions.
We're more or less done with the basics of the terrain section. As I said before. This is just an introduction. Every "chapter" here could be a standalone article.
Now if we move to the "specialized" equipment. Depending on the plans you have, you take the equipment you will need. I'll skip glacier equipment here because it was already described above. These are the three most common things that fall into this category:
1. CRAMPONS (STEEL OR ALUMINUM)
On normal days I usually take automatic aluminum crampons, in case I run into hard/icy snow. I love these crampons because they are really light and small but still very useful. The only downside of them is durability. I always try to avoid stepping on rocks, since they are not really cheap and as you know, aluminum is quite soft. For the days when I know that I'll need to climb on rocks too, I take my normal (steel) crampons. Heavy but durable. And if you need to cross-ice or ascend on it rather take steel than aluminum.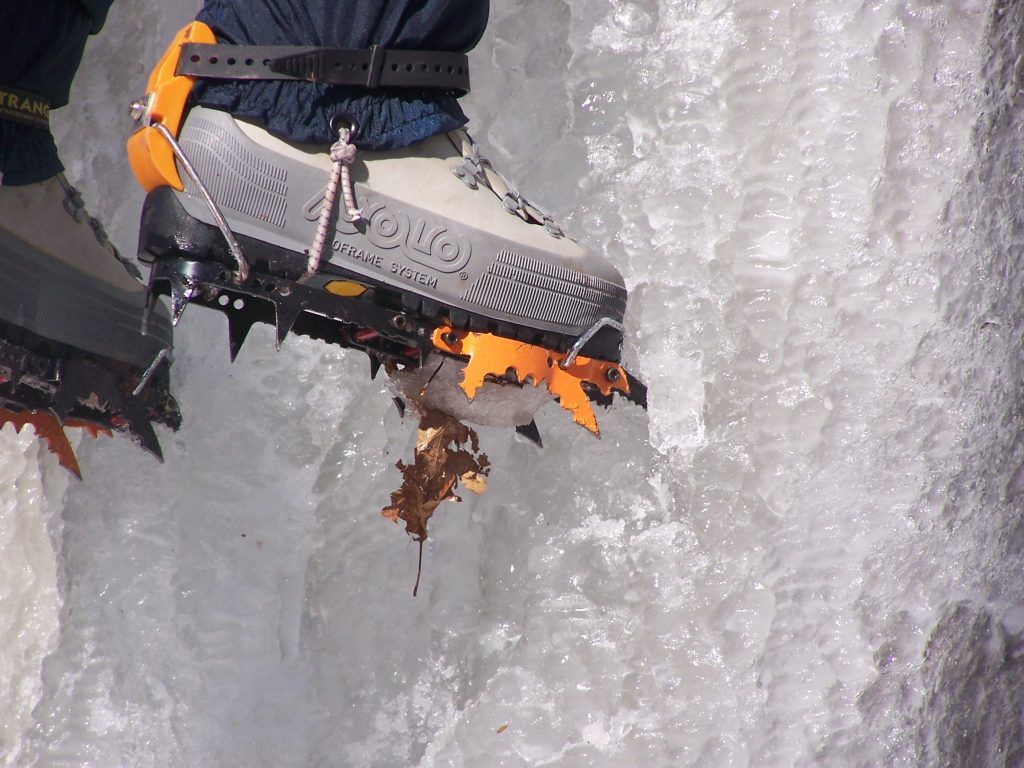 You'll need an ice ax that is lightweight and sized correctly. An ice ax that is too heavy or too long will not fit well on your pack and can become cumbersome on steep boot packs. You'll also need to learn how to use your ice ax properly for self-arresting if you or someone in your rope team fall.
Again, the lighter the better, but as long as your harness performs as it should, it'll do. Adjustable leg loops are preferred so you can put your harness on right over your ski boots. If it doesn't fit over your boots, you may wear your harness from the beginning of your tour, that way you don't have to stop and take off your ski boots before roping up for glacier travel.
I would say 90% (or more) tours can be made with this equipment. Usually, it only takes a lot of stubbornness and willpower to get to the top. And experiences make this easier for us.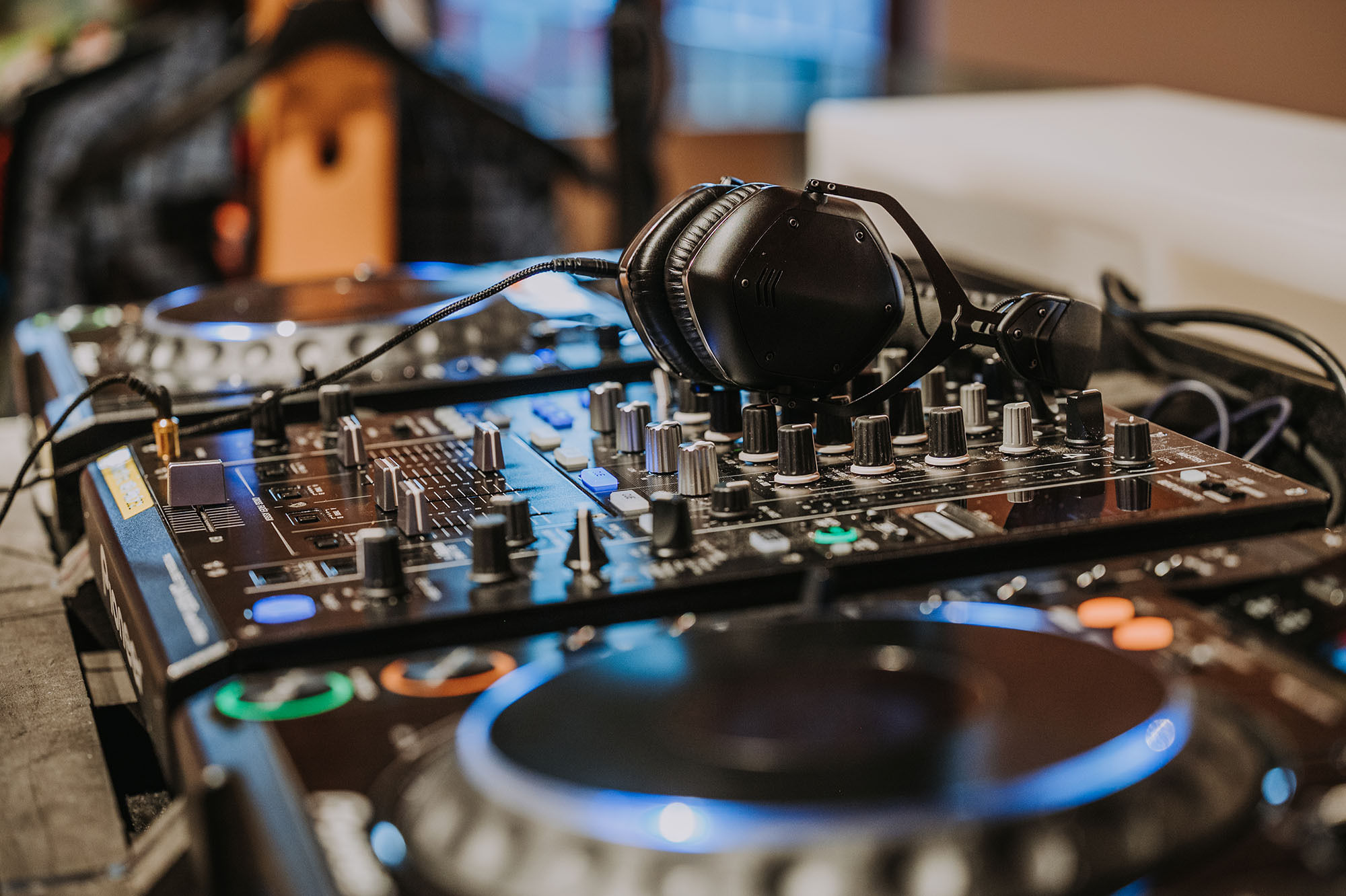 Discover the magic of MAYA MAYA at our Landquart event. Explore the 'Unique and Indigenous' collection, enjoy cocktails, and workshops.